It's been more than a week that I have left my country and I don't even remember how Indian food looks like. There are a lot of people who would say, " Oh come on! Try a new cuisine, experience new things in life. It's fun." Oh yes people, it is fun however when your body is accustomed to a particular food and you have been eating it since childhood not matter what, nothing can fill your appetite and give you satisfaction then your home food.
I always have been a grumpy kid when it came to eating food at home. I used to criticize a lot, and now when I am away from home I miss it. :( I guess it the same with everyone at first, we don't value food we eat at home.
When I told mom about it, she was worried a bit but we are a sarcastic bunch so she started laughing over it. Then the brotherly dialogue came from behind, 'Now you will understand.' (Brothers are always like this :[ ) How much ever ego I have but I wouldn't deny that I really miss my home food.
:(
It not that I can't cook but here in the temporary apartment we ain't given a kitchen. So Mac Donalds, Burger king and of course food from supermarket are our saviours.
I have had some terrible encounters with Danish food, the first one was definitely rye bread. God that smelt awful however Danes love it and it is suppose to be healthy.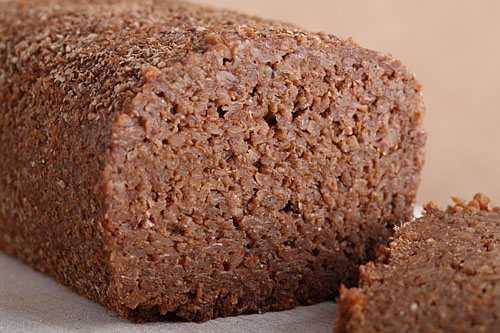 Rye bread (pic courtesy- google)
The food in Denmark is very overpriced, and the restaurant are very expensive too. I wonder how the students survive here, maybe part time jobs are a better option to balance it out. I will try and get one too. Hopefully!
Aldi and Netto have been two supermarkets which sell out cheap stuff, like the juice (1.5 litre) is approximately 4.5 krone and milk (1 litre) is approx. 5 krone. Fruits are cheap too when it comes to this season.
Aldi- supermarket
Netto- supermarket










I have somewhere survived till now and hopefully will get accustomed very soon. BUT I MISS HOME FOOD!! Ya, right even if I am food blogger, I miss home food, go file a case. :P
MAA I LOVE YOU AND YOUR FOOD!
Chicken curry with chicken sukka, chapati and steamed rice.
Spiced potatoes, black gram curry, shirari vegetable with Bhakri and steamed rice